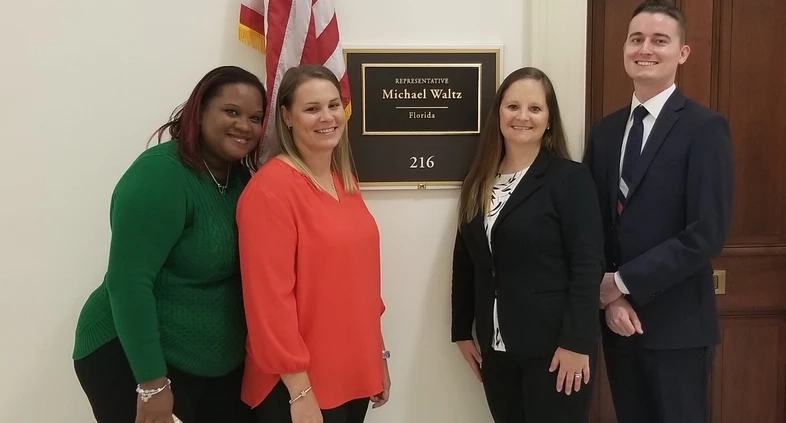 LESSONS FROM THE 2020 NATIONAL ANTI-HUNGER POLICY CONFERENCE
At the beginning of March, I traveled with our Chief Operating Officer Katie Williams to Washington D.C. for the annual National Anti-Hunger Policy Conference hosted by Food Research and Action Center (FRAC) and Feeding America. This event was the highlight of my year so far, despite spending a significant amount of time struggling to adapt to the cold… and then being repeatedly told that it was not, in fact, "cold".
Having attended the same conference last year, I was excited to reconnect with some of our friends and colleagues from organizations across the nation, whilst learning about their new ideas and innovations in nutrition and sharing our own experiences from here in South Florida.
Thanks to a scheduling mishap, Katie and I were able to take our conference experience to the next level by being asked to present on a panel about our work with the Summer BreakSpot Program. This was an exciting opportunity, especially due to the few hours' notice we had to prepare!
The National Anti-Hunger Policy Conference is a great opportunity for newer advocates to learn from more experienced members of the anti-hunger community, and to network with those who have been fighting against hunger and economic injustice for many years.
At the same time, the conference allows these new advocates to have a voice and bring fresh ideas for combatting food insecurity as society continues to change and evolve.
Additionally, the conference gives us an opportunity to bring our stories and ideas straight to our elected officials on Capitol Hill. However, perhaps the only disappointing aspect of this year's conference was the legislative priorities we were discussing with our representatives.
While a considerable amount of effort has been made over the past year to protect existing nutrition programs, there has been little progress by the government in advancing Child Nutrition Reauthorization (CNR). This lack of movement continues to be reflected in our federal nutrition programs falling behind the needs of our communities today.
CNR presents a great opportunity to strengthen program access and support participation by children in need. Protecting community eligibility, incorporating alternative delivery models, improving area eligibility, maintaining strict nutrition standards, and strengthening SNAP and WIC are just some of the ideas that we hope Congress will stand behind and support to eliminate hunger in our most at-risk communities.
Overall, I left this year's conference inspired and re-energized. I have brought back new ideas, new partners, and new experiences all to advance our efforts against food insecurity throughout our local community and across the state.
Sam Hopwood
Regional Director of South Florida
Florida Impact to End Hunger
http://floridaimpact.org/wp-content/uploads/2023/09/National-Anti-Hunger-Conference.webp
1048
786
lcameron
http://floridaimpact.org.c1.previewmysite.com/wp-content/uploads/2023/09/florida-impact-logo-300x70.png
lcameron
2020-03-12 09:00:13
2023-09-14 18:36:55
LESSONS FROM THE 2020 NATIONAL ANTI-HUNGER POLICY CONFERENCE