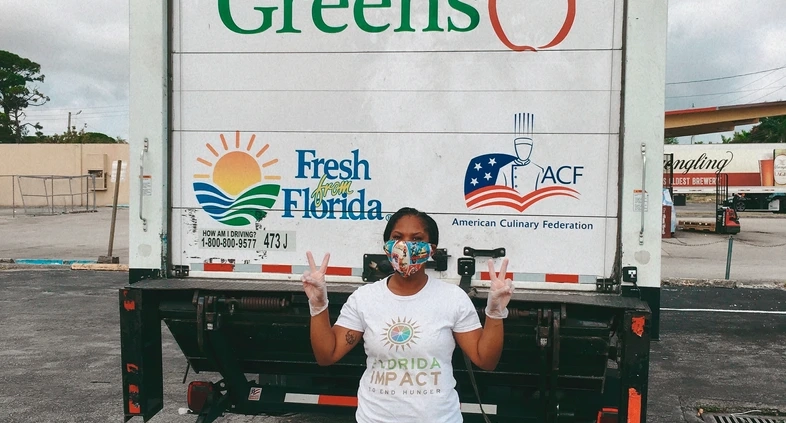 FLORIDA HEALTHY RETAIL: BRINGING THE COMMUNITY TOGETHER
The Florida Healthy Retail project kicked off in Miami Gardens and has been achieving much success even despite the Coronavirus pandemic. What was first thought to be a supreme barrier to our project is what actually motivates us and our retailers to get support on the ground.
I travel to the stores weekly to learn about the conditions of the stores, how sales are going, and if they have any worries about closing. At the beginning of the pandemic, the store owners were hesitant to participate in Florida Healthy Retail. However, as the conditions worsened, the retailers started to recognize their role to help their community.
During the recruitment process, I shared with the shop owners my experience going to a large chain grocery store: witnessing massive food and supply shortages and shock from the community. The store owners saw Florida Healthy Retail as an opportunity to support their community during this difficult time.
From my observations, I noticed how store owners are more conscious about their customer base than a typical full-scale grocery store chain. One store owner reported that being a part of the initiative allowed him to learn more about his customers' eating habits and food preferences. This is how they frame their orders, to match his customers needs with more onions, potatoes, and apples. It's also inspired them to include other healthy items in their store, like granola bars and yogurts, once activity returns closer to normal. It was amazing to see this progress during such an uncertain time.
There is a common assertion that crisis can either break people apart or bring them together. We have been a vessel for improving customer-to-owner relationships in this initiative, while addressing the food environment challenges of Miami Gardens. Slowly but surely we are playing a role in bringing the community together with Florida Healthy Retail.
If you would like to help our effort, we are currently holding a Florida Healthy Retail Facebook fundraiser. We need donations to keep this project running, and any support would be much appreciated. Please click here to view the fundraising page and make a difference.
Shirbrina Jefferson
Hunger Free America Associate
http://floridaimpact.org/wp-content/uploads/2023/09/Florida-Healthy-Retail-Project.webp
1048
786
lcameron
http://floridaimpact.org.c1.previewmysite.com/wp-content/uploads/2023/09/florida-impact-logo-300x70.png
lcameron
2020-05-21 09:00:36
2023-09-14 18:40:48
FLORIDA HEALTHY RETAIL: BRINGING THE COMMUNITY TOGETHER