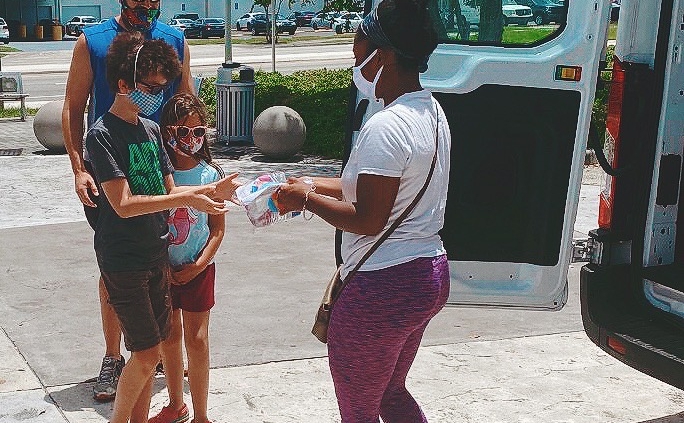 "ONCE PEOPLE UNITE FOR A COMMON GOAL" | A WORD FROM SHIRBRINA JEFFERSON
This summer, I served as a Hunger Free America Summer Associate. I was familiar with the layout of the Summer BreakSpot program from my previous service last summer. However, changes had to be made to accommodate the conditions from the COVID-19 pandemic.
The impact from my service has impacted me personally and professionally. Our team worked through the challenges of wearing masks, heightening sanitizing protocols, and social distancing. It was incredibly humbling to meet many families and hear about how my help lifted a lot of weight off of their shoulders.
We were able to provide informational flyers, weekly meals, and activity packs every Friday, which was my favorite part of the summer term.
It was also great getting the chance to see the administrative side of non-profit organizations in addition to the direct service approach with the partnership with FLIPANY.
One stand-out lesson from this summer was that the pandemic made the vulnerabilities these communities face more visible to the public eye. It is not so much that these challenges were new, but just hidden under other contemporary issues.
Yet, I was reminded of how positivity can arise even in tragedy once people unite for a common goal. It was super encouraging when families would spread the word to their community, and more people would arrive at the Friday meal service. This meant that more people were able to gain access to these resources and creating a positive domino effect.
I believe this impact will continue to encourage neighboring families to be engaged with one another, more than they were in the past.
The presence of community and relationships shined bright this summer. I am appreciative for the opportunity to work for Florida Impact to End Hunger. I am excited for what is to come for the organization, since it has shown that COVID-19 will not get in the way of their reach in the community.
– Shirbrina Jefferson
Hunger Free America Summer Associate
http://floridaimpact.org/wp-content/uploads/2023/09/Summer-Outreach.jpg
852
684
lcameron
http://floridaimpact.org.c1.previewmysite.com/wp-content/uploads/2023/09/florida-impact-logo-300x70.png
lcameron
2020-08-20 09:00:36
2023-09-14 22:58:03
"ONCE PEOPLE UNITE FOR A COMMON GOAL" | A WORD FROM SHIRBRINA JEFFERSON