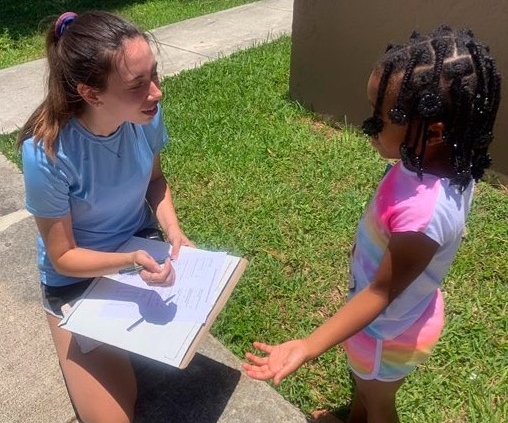 FIGHTING HUNGER CLOSE TO HOME: A WORD FROM SUMMER INTERN ALYSSA
This summer, I had the amazing opportunity to work with Florida Impact to End Hunger as an intern in Miami, Florida. Each day, my fellow intern, Shirbrina, and I traveled to five Summer BreakSpot sites throughout Miami the hour before lunch came to help children to receive a free, healthy lunch.
We also coordinated physical and educational activities for them to do the hour before. The kids were always ready to jump rope, learn about healthy eating with Common Threads, or play kickball! In one particular instance, a group of kids at our third site saw footballs we were holding and immediately ran over to us all set to play!
Throughout my internship, I was able to create bonds with the kids as well as gain hands-on experience working for a nonprofit organization. I have been able to work with individuals within Florida Impact to End Hunger and other groups that have a like-minded goal of ending hunger within the community, but also be free to coordinate different activities to ensure the kids would come back the next day.
Overall, working for Florida Impact to End Hunger gave me the opportunity to fight hunger within my community, and it is an experience I will never forget!
– Alyssa Barberis
http://floridaimpact.org/wp-content/uploads/2023/09/Summer-Intern.jpg
463
508
lcameron
http://floridaimpact.org.c1.previewmysite.com/wp-content/uploads/2023/09/florida-impact-logo-300x70.png
lcameron
2019-08-29 09:00:28
2023-09-14 16:13:00
FIGHTING HUNGER CLOSE TO HOME: A WORD FROM SUMMER INTERN ALYSSA