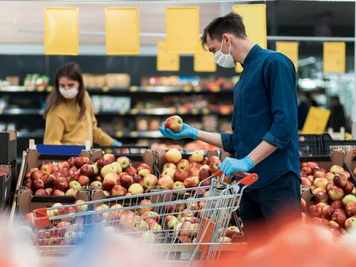 A Reflection on This Pandemic from Our President/CEO
As we approach a year with this devastating pandemic, Florida Impact to End Hunger is reflecting on the impact that COVID-19 has made on our children and families across our state and country.
Food Insecurity is just one of many issues that has hurt families during this very challenging year. Food Insecurity is real and affects all of us. It has hit all of our communities. Either we have experienced it ourselves, or we know someone that has experienced it, or you know a family that is struggling with it today.
I'm two months into my new role, and I can't help but think about where I was this time last year. I saw firsthand the important work that all of our School Food Service professionals have done this past year. I am so proud of all of you!
I want to take the time today to thank the countless School Food Service professionals that have been working non-stop to make sure that the children across our state and country did not go to sleep hungry at night. These amazing people have worked tirelessly in school kitchens, cafeterias, hallways, curbsides, drove food service vehicles, school buses and beyond.
They witnessed first-hand all of the worry and heartache that our children experienced this past year due to the loss of family members, homes, jobs, etc. The one thing that these School Food Service professionals knew that they could do to make things a little easier was to provide meals. Your perseverance, hard work, and dedication has been incredible!
I also cannot forget to say thank you to the many food banks, churches, other organizations, and community leaders that worked together to fill in the gaps and to make sure that our children and families have food access, among many other much needed resources. For you too had families, friends, and loved ones that have been impacted this year. For you too have been quarantined, sick, and experienced incredible loss.
But you all still made sure that our children were taken care of and, for that…
Florida Impact pays tribute to all of you today and forever.
Kim M. Johnson
President/CEO
Florida Impact to End Hunger
http://floridaimpact.org/wp-content/uploads/2023/09/Reflection-on-Pandemic.webp
267
356
lcameron
http://floridaimpact.org.c1.previewmysite.com/wp-content/uploads/2023/09/florida-impact-logo-300x70.png
lcameron
2021-03-15 09:00:21
2023-09-15 13:52:43
A Reflection on This Pandemic from Our President/CEO